The weekend's ♨♨♨ HOT ♨♨♨ DEALS
NEW COUPONS Powered by ShopHer Media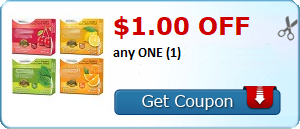 NEW COUPONS.COM GROCERY COUPONS
Save $1.00 One (1) Girard's® Salad Dressing
Save $1.00 On any TWO (2) Welch's® Fruit Snacks, Fruit 'n Yogurt™ Snacks or Fruit Rolls (8oz or larger bag or 6ct or larger box)
Save $1.50 on any ONE (1) Delizza Dessert (Cream Puffs, Mini-Eclairs, Chocolate-Covered Puffs, Mousse, & Macarons)
Save $0.75 on any ONE (1) Tums® 28 count or larger
Save $3.00 OFF 1 (ONE) Nexium® 24HR 28ct or larger
Save $2.00 ONE COVERGIRL® Face Product (excludes Cheekers, accessories and travel/trial size)
Save $2.00 ONE COVERGIRL® Eye Product (excludes 1-kit shadows, accessories and travel/trial size)
Save $1.00 ONE COVERGIRL® Lip Product (excludes Continuous Color Lipstick, accessories and travel/trial size)
Save $2.00 ANY ONE (1) L'Oreal Paris® Elvive haircare or Advanced Hairstyle product (see details for exclusions)
Save $5.00 TWO BOXES of Clairol® Nice'n Easy, Root Touch-up Permanent or Natural Instincts (excludes Natural Instincts Crema Keratina)
Save $2.00 on any ONE (1) Banana Boat or Hawaiian Tropic® Sun Care Product (excludes 1 oz., 1.8 oz., 2 oz., lip balm & trial sizes)
Save $1.00 ANY ONE (1) Garnier® Color Sensation haircolor product
Save $3.00 any ONE (1) AVEENO® Suncare product (excludes trial sizes)
Save $3.00 on ONE (1) bag of Supreme Source ® Dog Food, any size, any recipe
Save $1.50 ONE (1) S.Pellegrino® Essenza™ 8pk cans or 6pk bottles
Save $1.50 off any FOUR (4) SMART ONES Products
Save $1.00 One (1) Girard's® Salad Dressing
Save $0.75 on any ONE (1) Sargento® Reserve Series™ Sliced or Shredded Natural Cheese
Save $0.75 on ONE (1) package of Keebler Cookies, 8oz or larger
Save $3.00 ONE (1) NEUTROGENA® Rapid Tone Repair (excludes trial and travel size)
Save $3.00 ONE (1) NEUTROGENA® Triple Age Repair (excludes trial and travel size)
Save $1.00 any ONE (1) VEET® Product (Excludes VEET® Facial Wax Strip 6 & 12 ct)
Save $3.00 ONE (1) NEUTROGENA® Rapid Wrinkle Repair (excludes trial and travel size)
Save $2.00 on any ONE (1) Banana Boat or Hawaiian Tropic® Sun Care Product (excludes 1 oz., 1.8 oz., 2 oz., lip balm & trial sizes)
Save $3.00 on ONE (1) bag of Supreme Source ® Dog Food, any size, any recipe
Save $1.50 ONE (1) S.Pellegrino® Essenza™ 8pk cans or 6pk bottles
Save $1.00 on any TWO (2) Newman's Own® Salad Dressing
Save $1.50 off any FOUR (4) SMART ONES Products
Save $0.75 on the purchase of any two (2) SKIPPY® Peanut Butter Spreads 16.3 oz. or larger
Save $3.00 ONE (1) NEUTROGENA® Rapid Wrinkle Repair (excludes trial and travel size)
Save $1.00 any ONE (1) VEET® Product (Excludes VEET® Facial Wax Strip 6 & 12 ct)
Save $3.00 ONE (1) NEUTROGENA® Triple Age Repair (excludes trial and travel size)
Save $3.00 ONE (1) NEUTROGENA® Rapid Tone Repair (excludes trial and travel size)
This Week's Complete Coupon Post: Coupons, Deals and Giveaways – 4th Week of August

Here are today's new killer deals…
Daily Deals & Coupons
6 Fresh Meals for ONLY $36 Shipped with Gobble
Sharpie Permanent Markers Classic 8-Count $5.15 (Reg. $10.49)
Big Hero 6 Flying Baymax ONLY $20.62 (Reg. $40)
Little Live Wrapples ONLY $4.99 on Amazon (Reg. $15)
Hot Wheels Howlin' Heat ONLY $3.16 (Reg. $7)
Hot Wheels Rally Finale ONLY $3.63 (Reg. $7)
Aveeno Positively Nourishing Calming Body Wash – Two for $8.23
All Purpose Shoulder Tote Bag ONLY $21 at Amazon (Reg $35)
Save up to 74% on Bath Towels at Wayfair
Disney's Frozen 2 Comforter ONLY $13.59 at Kohl's (Reg $80)
Mucinex Fast-Max DM ONLY $4.80 Shipped (Reg $13)
MUK LUKS Women's Sigrid Boots ONLY $59.99 (Reg $120) Shipped
Fisher-Price Laugh & Learn Countin' Reps Dumbbell ONLY $7.88
Post-it Super StickyNotes 622-Count ONLY $4.19 (Reg. $10)
Rhinestone Water Drop Jewelry Set ONLY $1 Shipped
TONYMOLY Aloe Hand Sanitizing Gel In Stock at ULTA
Health Warrior Chia Bars 15-Count ONLY $10.48 Shipped
Giani Bernini Triple-Zip Leather Crossbody ONLY $14.99 (Reg $74)
Hot Wheels Super Blitzen ONLY $3 (Reg $7)
Electric Hand Foamer Blender ONLY $8.49 (Reg $18)
Post-It Flags 280-Count ONLY $5.81 (Reg. $14)
Germ-X Hand Sanitizer In Stock – Large 32oz Bottles $5.99
Avery 8-Tab Plastic Binder Dividers ONLY $2.99 (Reg. $8)
WaterWipes Sensitive Baby Wipes ONLY $2.42 Shipped
MUK LUKS Women's Justine Shoes ONLY $8.99 (Reg. $66)
Free $45.00 to Spend at Sam's Club w/ $45 Membership
Owleez Flying Baby Owl Interactive Pet Toy ONLY $10 (Reg $49)
Nerf Rival Kronos Blaster ONLY $19.95 (Reg. $60)
Starting 8/30 – Just the Basics Water 24 Pack ONLY $1.99 at CVS
Kellogg's Jumbo Snax Cereal Snacks 48-Ct ONLY $13.94 Shipped
Save $60.00 on Your First 4 Orders of Freshly
Personalized Throw Pillow Cover ONLY $9.99 (Reg. $25)
Cheap Face Mask Gaiters for $7.99 Kids & Adults + Free Shipping
WowWee Fingerlings Banana Blister Bracelet ONLY $3.99 (Reg. $8)
FREE 2 Months of Kindle Unlimited Reading (Save $19.98)
WowWee Fingerlings See-Saw Playset ONLY $19.82 (Reg. $40)
Fingerlings HUGS Kiki ONLY $17.99 (Reg. $30)
WowWee Lucky Fortune Collector's Case ONLY $16.60 (Reg. $30)
WowWee Pixie Belles ONLY $6.99 (Reg. $15)
Free Product Samples
The Best Birthday Coupons & Freebies
Free CocoaVia Memory+ Supplements
Free Insulated Stainless-Steel Cup
Free FOUR: Organics Organic Lip Balm Night Party Pack
Free Sample of L'Oreal Paris Infallible Fresh Wear Foundation
Free Cake Beauty Air Whip Priming Moisturizer
Free Andalou Naturals Skincare Sample Pack
Mack's Free Ear Plug's Giveaway – Every Weekday at 11am EST
Free Sample of Lancome La Vie Est Belle
Five New Glasses Mailed for Free by Warby Parker
Free Hot or Iced Coffee at Pret A Manger on Fridays
Free Medium Fries w/ Any $1 Purchase at McDonalds – Every Friday
Free Nest Thermostat-E or Whole House Efficiency Kit – OR
Free Claritin Children's Chewables at Walmart
Free Subscription to Field & Stream Magazine
Free Sample of Sorion Herbal Cream
Free Subscription to ELLE Magazine
Free $125 Alcohol & Non-Alcoholic Beverages Research Study
Free Fage Sour Cream at Select Stores
Free Pureology Haircare Products
Free Sony ZV-1 Digital Camera & Accessory Kit
Free Tickets to Walmart Drive-in Movies
Free Caramel Creams at Big Lots
Win Free Diapers for a Year from Huggies!
Free Kolcraft Baby Product Testing
Free Ellenos Real Greek Yogurt
Free Magnum Ice Cream Bar at Casey's – Today
4 Free Sheer Miracle Mineral Makeup Samples
Free Sample of Downy Unstoppables at Sam's
FREE Amazon Baby Box Samples Back in Stock
Free Stuff & Freebies
Free Pocket Wiki for Terraria App
Free Cirque du Soleil 60 Minute Specials
500 Free Old Orchard Points with Survey
Free Harry Potter and the Philosopher's Stone Audiobook
FREE Download: 25 Cool Things to Do with Old Wine Bottles
Free Boken The Dog – It´s All About Me! Audiobook
Free Winnie the Pooh Audiobook
Free Sweepstakes, Contests & Giveaways
Win a $500 Bearpaw Shoes Gift Card
Win a $4,995 Fuzzy's Vodka Golf Cart
Win $4,500 Cash in the Virtual Vacation Sweepstakes
Win $1,000 in Gift Cards from Pottery Barn Kids and and More
Win a $10,000 Trip to Anywhere in the World
New Code: Win $5,000 Cash from Discovery Channel
Printable Coupons
Bounce Dryer Sheets ONLY $1.99 at Walgreens
Whole Fruit Bars $1.00 Off Coupon
Maggiano's Coupon $5 Off $25 for Carryout
Glucerna Mini Treats Snack Bars 6-ct ONLY $0.29 at CVS
Sign up for Silk Emails and Get a $1 Coupon
Revlon ColorSilk Hair Color ONLY $1.00 at CVS
New Amazing Offers…
More coming soon!