We are fast approaching an election, and I am absolutely tired of not having #RealNews reported. We all rely on news everyday, and the accuracy must be in check at all time, or a reporting source should be deemed as "gossip". In this case, my post was blocked by Facebook unscrupulously taking a side from a misinformed fake news report by USA Today. This time it has to do with gas prices. I posted in good faith that the article I shared last night was a fact. USA Today failed to check the logistics of the criteria, not the actual photo. So when USA Today posted an article supporting the Biden campaign with the post being blocked as such:
Your Post Is Missing Context
Your post contains the same information as a post checked by independent fact-checkers. It may have small differences.
Independent fact-checkers at USA TODAY say information in your post is missing context and could mislead people. We've added a notice to your post.
I encourage anyone to challenge
ANY
post I put up that is credible. Just let me know on the "Submit A Request" form on my "About" page.
The criterion for me posting this post was based on my memory of prices being for regular unleaded gas at the "Murphy USA" gas station in front of the Walmart on Route 34 in Plano, IL, which is a suburb in the far collar Chicago county of Kendall from the period of the year 2011 to 2014. The price at this station ranged from $2.95 to $3.39 per gallon. At the same time prices were on the side of an extra $0.75 to $1.25 per gallon extra inside the City of Chicago. You would be able to check that online for fact. These facts showed up all over the place, including at
Bianco Research
based on graphs compiled by
GasBuddy.com
.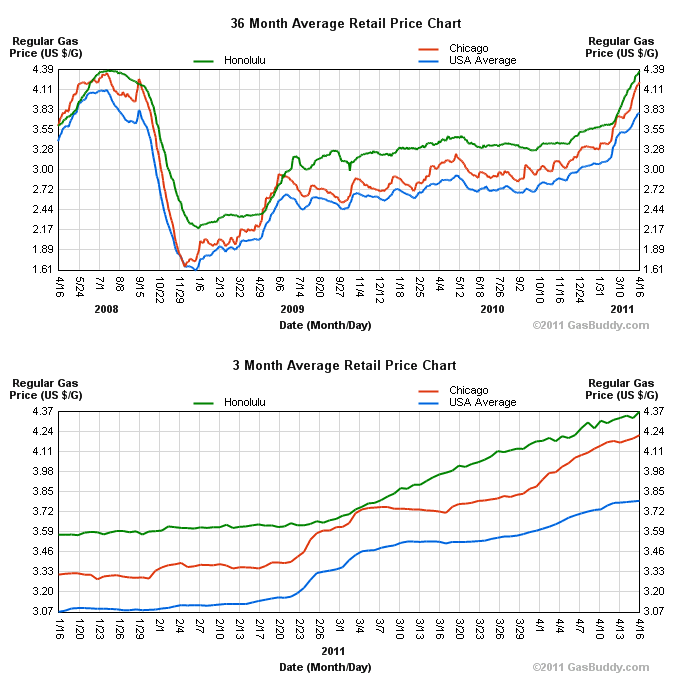 The whole oil pricing from the three presidential administrations from the period of 2008-2019 is featured here: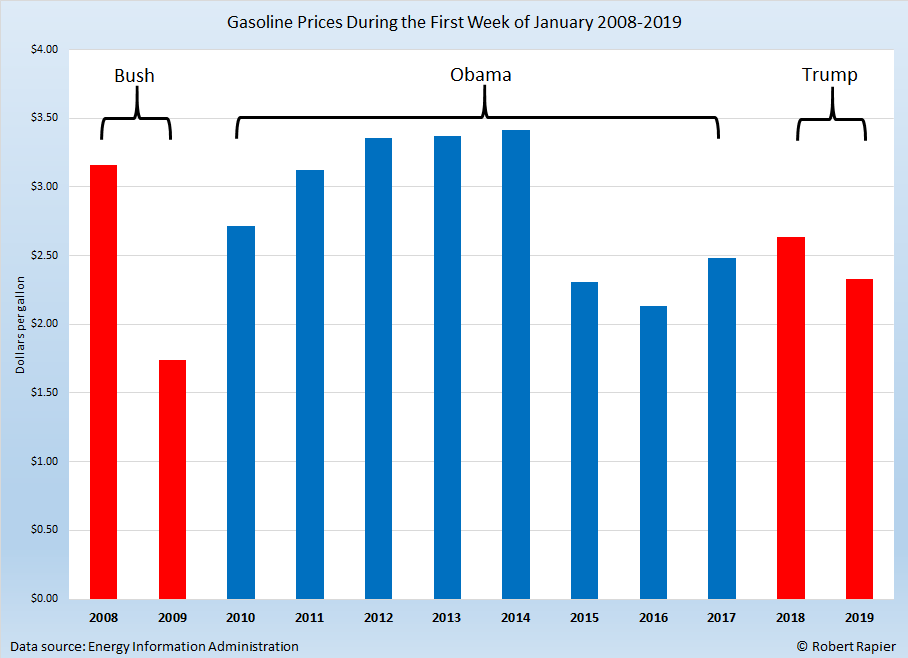 As you can plainly see, the red graph bar indicating Chicago is right on target with my above statement. Also if you read the article in depth, you can take note that Illinois law lets the state, county and cities/villages be "double-taxed" a sales tax in addition the the original fuel prices, of which we could have another whole article on. Honolulu, Hawaii had a additional $0.28 average per gallon price higher. So this 4/16/11 snapshot of accrual value is as follows:
So as per the above graph, the "viral image of an Exxon gas station is being shared on Facebook, showing regular gas at $5.49 a gallon, $5.59 for plus and $5.79 for supreme was in the ballpark to being true", the photo could have been true, but in the case of verifying the actual photo, it may have been doctored. The price is probably could actually have existed at the time and been on the maximum side, and the author could have searched for a better photo, because there were plenty available. The excuse that Facebook used was the information was not correct, and it was correct; not that the photo could have been doctored. Therefore I am going to furnish real photos of the times, three separate photos of pricing in the era of 2011-2014, where the Obama/Biden administration had the worst pricing in man's entire history, with the exception of the actual first year oil was produced in the 1800's.
.
It is only speculation, but with a Biden/Harris administration the oil market is at stake, and nobody or organization including the AAA Motor Club who lobby to keep the prices in line and more affordable will not be able to assist in doing so in a market going mandatory electric. Also a lot of older cars including classic and antique cars would only be allowed on the road after being destroyed retrofitting them with electric. My position is that it be phased in over a thirty year period as deemed possible by the original planning, NOT making it illegal to ride within the decade as proposed at the second (third by cancellation) debate whereby Biden expressly stated that he was in favor of completely getting rid of oil within the decade. There are many products other than gas that are crucial and cannot be made without oil, like plastics, cosmetics, and other products that cannot be made without oil. What would a hospital do without an IV bag and tubes? A lot of medical products and cleaning products are made with oil at the get-go. What about rubber. How are we supposed to get around with no tires?
Living without oil is not going to be as easy as the Biden administration makes it out to be and we do not have enough money to pay for the conversion in the amount of time that he is allotting to do so. Nine days, and the most important decision you will make for a while is to vote. Is it more lies, transparent dreams, supporting fake news,and someone who you cannot trust to stay out of a basement? You know who I am voting for…
I added #RealNews as a very important tag last summer, because an incident happened last summer whereby news was being suppressed and then I looked into why a solar eclipse was not reported at all, as reported in my Blogpost: Recent Solar Eclipse Overnight – Total Eclipse of the Media. I immediately looked at news feed history, and when I went back to past years, eclipses were always reported be it on the other side of the earth or not. the feeds reports of every eclipse since at least the 1950s always established feed activation (formerly through a teletype) spurred at least 100 individual reports. So whenever any news report is blocked and can be explained as #RealNews I go above and beyond my duty to set it straight, as in this case. I am "FOR" the regulation of #RealNews as there are news agencies that have been abusing the rights as guaranteed by the constitution, because they are violating a person's right to hear the truth. We all have the freedom of speech, but we simply cannot yell "fire" in a theater. These news agencies practicing these fictitious facting are doing a severe disservice to the community abroad and deserve to be branded "gossip". Also they deserve to be sued in the court of law for slander and / or libel. Facebook should be dedicating more time to customer service than policing the internet. I have seven open cases over a three year period to no avail. I would be for citizens against social censure. And being able to contact a representative at Facebook would be a plus!

Images in this article are © their respective owners, as linked: Exxon Mobil, OilPrice.com, Bianco Research, Chicago CBS Local, Chicago Sun-Times, Oil Field Pulse magazine, and GasBuddy.com.