@

Versatileer

& @BeebAshcroft Welcome you to the Shout-Out for "Nominate a Teacher"

31 Drawn Teacher's Names Worldwide – @teachers_market ~ @ContestCorner
#clearthelist2023 #teachertwitter #teachersoftwitter #adoptateacher #payitforward
December Teacher Feature – 31 Days of your Amazon Wishlist Featured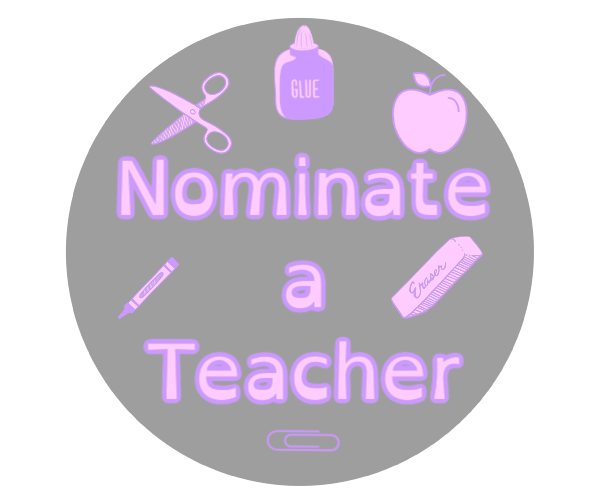 If you are a blogger and would like to join us in supporting educators, contact me to join the blog hop!
Teachers: Nominate Yourselves Below
To nominate yourself for our December Teacher Feature, leave your name and/or Twitter handle and wishlist URL in the Mister Linky form below – one entry per teacher only. "Your name" can be your full name, nickname, a Twitter handle, or a combination of the two.
This form is open to teachers only. By submitting your information below, you provide a full publicity consent and release to Contest Corner, Teacher's Market, Versatileer and/or any other Teacher Feature Blog Hop participants to share the provided information on our blogs and social media channels for the purpose of raising donations. Nominations close on November 26th, 2023 at 11:59 PM PST. 31 teachers will be drawn at random on November 27th, 2023 to be included in our December Teacher Feature. Please read the official rules below carefully.
Rules, regulations, and other important stuff: Nominations are open to teachers worldwide, 18 years of age and older and will be accepted until November 26th, 2023 at 11:59 PM PST. 31 teachers will be drawn at random on November 27th, 2023 using Mr. Linky's "Choose Random Winner" feature. By submitting your information, you provide a full publicity consent and release to Contest Corner, Teacher's Market, Versatileer and/or any other Teacher Feature Blog Hop participants to share the provided information on our blogs and social media channels for the purpose of raising donations. You are liable for any information you submit through this form. The information you submit must belong to you; do not submit any information on behalf of a third party. Contest Corner and other Blog Hop participants are not liable for information submitted via this page, and Contest Corner will promptly delete any teacher information from this page if requested. Selected participants will have their name and wishlist shared in blog and social media posts by Contest Corner, Teacher's Market, Versatileer and/or any other bloggers participating in the Teacher Feature Blog Hop (TBD). The information summitted via this form is subject to the conditions of Contest Corner's Privacy Policy, Terms and Conditions, Cookie Policy and Disclosure. This promotion is in no way sponsored, endorsed or administered by, or associated with, Facebook, Instagram or Twitter, and by entering a nomination, you completely release Facebook, Instagram and Twitter. Contest Corner is not responsible for late entries or entries lost due to technical malfunctions.